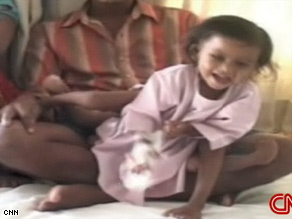 8-limbed 'goddess' baby becoming normal little girl - CNN.com
: "And when the girl was born during the Festival of Lakshmi and the new mom saw that she had eight limbs, just like the goddess Lakshmi, Poonan and others were convinced that she was the goddess incarnate.
In medical terms, Lakshmi had a parasitic twin, a condition so rare that no reliable numbers exist on its prevalence. The incidence of conjoined twins is one in 50,000, and Lakshmi's kind of twin forms in only 3 percent of all types of conjoined babies."