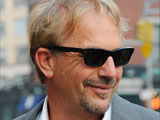 Costner to release country music album
: "Kevin Costner will release a country rock album with his band Modern West in November.
The actor, whose film credits include The Untouchables, Field Of Dreams and Dances With Wolves, will put out the 12-track LP on November 11 and tour later in the year.
After his band performed a gig in July, Costner is reported to have said: 'I just remember looking out into the crowd, thinking, 'This just feels right'.'
Other Hollywood actors to have attempted music careers include Russell Crowe (who fronted 30 Odd Foot Of Grunts), Keanu Reeves (Dogstar) and Jared Leto (30 Seconds To Mars)."