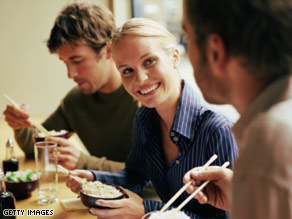 Should your wife have guy-friends? - CNN.com
: "-- When Suzanne Babb, a 34-year-old professional organizer from Gilbert, Arizona, is having a bad hair day, she does what many women do. She calls her best friend.
'I'll be crying my eyes out and will say, 'I'm fat and ugly, and I don't have a boyfriend,'' she says. 'Then Eric will come over and tell me I'm pretty, and we'll watch '300.' It's like having all the benefits of a really great husband -- without having to do the laundry.'
Babb is one of many adults whose platonic friendship contradicts the old 'When Harry Met Sally' maxim about sex always getting in the way of men and women being buddies. Though they have been close since high school, Babb says she and Eric have never even kissed."