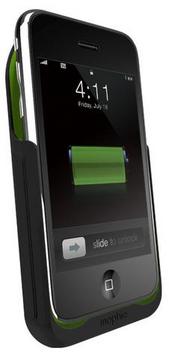 Juice Pack - iPhone 3G (pre-order)
: "The All-New mophie 'Juice Pack 3G' is designed to more than double the time you can Rock, Talk, Surf and Send with your iPhone 3G
The Juice Pack for iPhone 3G is available for Pre-Order. The expected ship date is in late September.
This is the first Apple certified "Works With iPhone" attached battery in the world!
The Juice Pack is a rechargeable lithium polymer battery in the form of a non-slip, soft grip case. It extends the time that you can use your iPhone 3G.