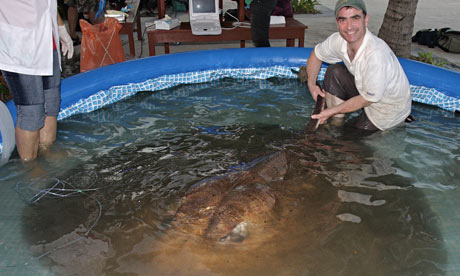 British angler lands monster stingray in Thailand
: "A British angler – with a dozen helpers – has landed what could be the biggest freshwater fish ever caught with a rod and line, it emerged today.
The giant freshwater stingray, weighing as much as 350kg (772lbs, or about 55 stone), was the size of a garden shed and so cumbersome that Ian Welch had to enlist the aid of 12 other people to get it out of the water.
Welch, a professional fisherman, biologist and columnist for the magazine Angler's Mail, was visiting Thailand to help with a stingray tagging programme when he landed the monster in the Maeklong river. The 45-year-old said he was nearly pulled over the side of the boat when the specimen took his bait."